Craft – Memorial Flower – Bake sale
Sat, May 5th – 9am to 3pm – Lunch Counter from 11-1 (over 20 vendors)
Our gift shop will be open, we have books, puzzles and word finds for sale as well.
We have a beautiful Quilt for raffle put together by our wonderful quilting ladies.  Check it out!  2nd prize Certificate to Franklin's Bistro.  1 for $1 – 7 for $5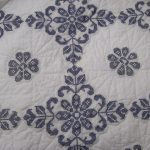 If you can volunteer by bringing baked goods or help us with the day, let us know.
371-8299